…only the wisdom and experience gained from the past
will help us define our future...
Capt. Nikolaos Mazarakis, Chairman / C.E.O
The Mazarakis family has been active in shipping since the mid-19th century. Specifically, from the 19th century, Capt. Kosmas Mazarakis (the great-grandfather of the present Capt. Nikos Mazarakis), with a small fleet of wooden sailing cargo vessels began trading and transporting goods between various Eastern Mediterranean ports.
1860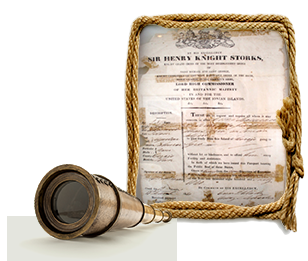 taking over the wheel
Since then, knowledge and expertise has been handed down from father to son with each successor groomed to take over the reins of the company.
For Capt. Nikos Mazarakis this moment came a little sooner than it was anticipated due to the unexpected death of his father in 1967. A year after this unfortunate event, he purchased his first vessel, the 2,500dwt "Kosmas I" naming it in memory of his late father.
In 1978, Capt. Nikos Mazarakis founded a new company, which emphasized on the management of smaller dry cargo vessels. He expanded the fleet by adding a 2,500 dwt cargo vessel. In the years that followed, the company built a significant reputation in the Mediterranean and an increase in demand allowed the company to further attain its goals.
W.E.M. Lines S.A. was founded in early 1982. With a fleet of seven freighters trading in the Mediterranean, it was decided that WEM Lines should open its central offices in Barcelona, Spain.The fleet now included seven freighters, all between 2,500 and 7,500dwt.
1982

The successful operation of the fleet triggered the Spanish Shipping Press to publish the trading statistics of W.E.M. Lines, awarding them the distinction of the "Top Seven Major Shipping Lines trading in the Mediterranean", transporting 21% of the total dry cargo volume in the area.

1986
In 1986, W.E.M. Lines materialized its replacement shipping policy and investment by replacing his existing fleet with vessels from 2,500 dwt to 27,000 dwt. W.E.M. Lines S.A. entered the tramp-shipping sector successfully, operating profitably two handy size bulk carriers. Those vessels had been employed by first class charterers and consecutive voyage charters. During the first eight years (1982-1990), the Company operated six liner type vessels, including a Ro-Ro and two handy-bulkers. These vessels were operating on a liner service between East and West Mediterranean ports and occasionally within the Black Sea and European Continent.
Despite the depressed freight market conditions at that time, the Company succeeded in trading profitably and as a result purchased additional dry cargo and bulk carrier tonnage at very low prices. From 1984 till 1992 the Company was also operating three Product Carriers (tankers) of 45,000 dwt each, resulting in significant returns from their operation while gaining significant experience within that particular sector.
1992
In 1992, the company acquired two additional bulk carriers 35,000dwt and 40,000dwt, built in 1983 and 1985 respectively and placed them on a long term time charter with first class charterers.

1994
In 1994, W.E.M. Lines purchased five additional bulk carriers, which were successfully traded as well. In a strategic and timely move, subject vessels were in turn sold in 1997 and 1998, resulting in considerably high profits. From that point, the time had come for moving into new-building projects, considering the company's financial strength and market know-how. W.E.M. Lines continues to hold a strong position in the dry bulk sector and multi-purpose industry, managing on average about 10 vessels from 1996 up to date.
2004 - 2009
In 2004 WEM placed an order for two Supramax 51,000 dwt bulk carriers, which were equipped on a very high standard. The vessels are trading successfully up to date. In 2006 W.E.M. Lines added into the fleet one additional bulk carrier of 51,000 dwt, which was sold during 2013.
In 2007 WEM signed a contract for the construction of another six Supramax vessels, having secured at the same time their financing but they were sold in early 2008, while under construction, to another buyer resulting in high returns.
Between 2004 & 2006, six small handysize vessels of about 10,000 dwt each had been acquired and were sold in 2008 and 2009 at higher prices.
Furthermore, two capesize vessels had been purchased in 2006 and early 2008 and sold in 2007 at a profit and 2009 at a loss, respectively.
WEM Lines currently owns two Supramax vessels, trading around the globe, predominately carrying coal, iron ore, grain, minerals, fertilizers, sugar, cocoa, as well as various other types of dry cargoes.